Deaf Studies as an interdisciplinary field has innovated and expanded especially in the past 10 years, and deaf scholars based in Europe and the UK have been instrumental at the vanguard of these innovations. However, these innovations have not yet been translated into an expansion of postgraduate study opportunities in Deaf Studies. While there are several BA programs in Deaf Studies, there is currently no MA in Deaf Studies in the UK and Europe.
The MADS project initiates collaborations between seven higher education institutions in Europe and the UK with a view of setting up a new European joint Master programme in Applied Deaf Studies (MADS). It is funded by the Erasmus Mundus Design Measure (under the Erasmus+ program).
The project, and the potential new MADS, addresses three gaps in the field of Deaf Studies: 1) lack of available postgraduate study opportunities in Deaf Studies in Europe and the UK, 2) lack of connection between Deaf Studies research findings and professional practice, and 3) lack of access of deaf students to Deaf Studies programs. One uniqueness of MADS consists of the project being deaf-led (all the academics and partners involved in the project are deaf) and the potential MADS being an 'Applied Deaf Studies' program rather than 'Deaf Studies' per se, in order to offer students skills for professional practice such as service provision, teaching and advocacy work.
The project, which runs for 15 months, will have the following aims:
landscape review of European and international higher education institutions offering courses in Deaf Studies and adjoining fields in the collaborators' countries
needs analysis among prospective students with a view to curriculum development (in collaboration with the European Deaf Students' Union and Frontrunners), and
needs analysis among organisations in the professional practice field to analyse what future MADS graduates need.
Consortium of seven higher education institutions and project team: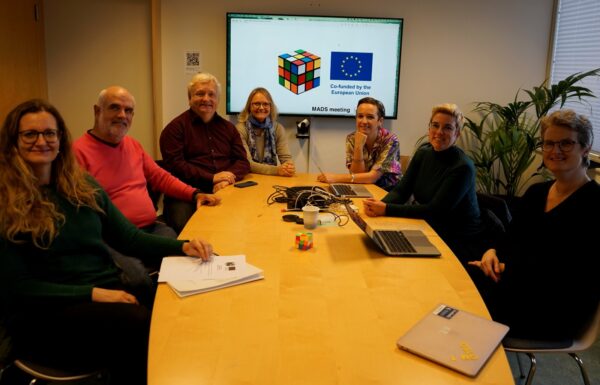 University of Applied Sciences Utrecht (Maartje De Meulder and Lisa Hinderks)
OsloMet – Oslo Metropolitan University (Hilde Haualand and Johan Hjulstad)
Heriot-Watt University (Annelies Kusters, Robert Adam and Mette Sommer Lindsay)
Trinity College Dublin (John Bosco Conama)
Humboldt Universität zu Berlin (Christian Rathmann)
Charles University Prague (Radka Nováková)
Stockholm University (Johanna Mesch and Camilla Lindahl)
SIGNS@HWU people on this project:
Project partners and funders: